Smartphones have evolved drastically over the past two decades. Be it in terms of versatility, connectivity, software, design or display, smartphone technology seems to have surpassed all expectations. With consistent innovation, smartphones have become the main computing device for many. Since their inception, developers have strived to incorporate several features into a single device.
The display or the screen is the most significant part of any device. Brands are constantly upgrading phone displays to serve customer needs. 2018 witnessed the phenomenon of shrunken bezels in the mobile industry to provide over 90% screen to body ratio.
And now, there seems to be another paradigm shift; that of foldable smartphones. Rapid advancement in technology has allowed regular smartphones to make this revolutionary transition to foldable phones. The smartphone industry has made a technological breakthrough with innovating a folding display. Foldable phones might just be our future.
Why transition to Foldable Smartphones?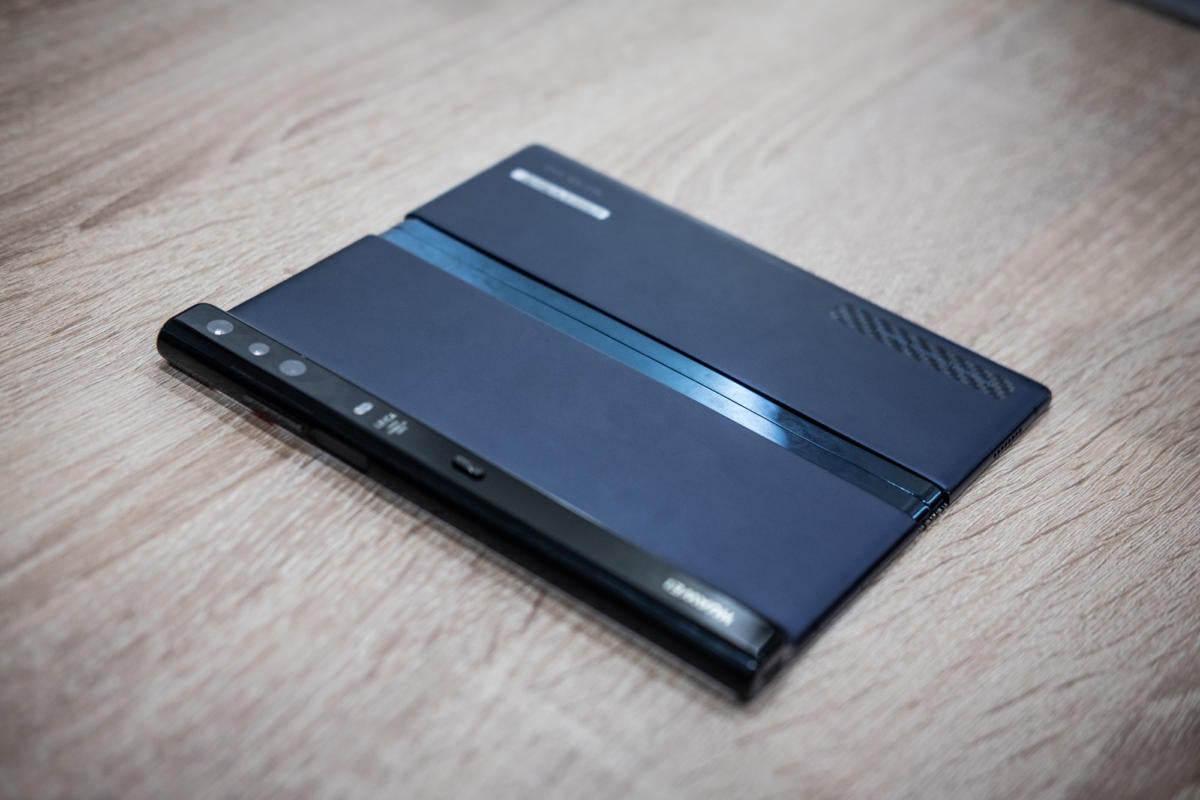 These foldable smartphones offer the portability of a phone and the immersive display of a tablet in one device. When folded they resemble your conventional smartphone which can be easily accommodated in your pocket but once unfolded they can expand to a bigger screen giving more working area. They are potentially capable of replacing laptops in the coming years; the tablet market is likely to take a nosedive in the coming years as well.
Impressive display
The demand for larger displays has increased rapidly. Foldables have an edge over conventional smartphones as they have the same features but with a tablet-sized display, thereby providing a rich user experience. When unfolded, the huge screen provides a much better user experience. One enjoys movies, videos, and mobile games a lot better on a wider screen. Reading pdf files and novels, navigating maps and browsing become easier.
Simplifying work
Wider screens allow for more working area, thereby making multi-tasking easier. You can have access to the added productivity of tablets and desktops in the form factor of a phone. Video-editing, web-designing, digital painting seems effortless on tablet-sized displays. Thus, the foldable smartphones could be the preferred choice for designers, architects etc. as well.
Multi-tasking
These devices offer dual/multiple-screen setup. You can simultaneously run two-three apps: You can watch a music video and text someone while doing a google search. You have the benefit of triple screens in one single integrated display (Feature of Galaxy Fold).
Consumer Sovereignty
The smartphone industry seemed to have stagnated somewhere along the run. Innovation had subsided and the newer versions of smartphones seemed like replicas of their contenders. With the new flexible screen technology hitting the market, a whole new product category has emerged extending the boundaries of traditional smartphones. Smartphone technology has witnessed a radical change in the past twenty years.
Shortcomings
The first-generation foldable smartphones have their own shortcomings. Many investors/developers are pouring a substantial sum of money in developing this technology.  However, customers are quite skeptical. It is yet to be ascertained whether these ostensible gadgets of the future are optimally functional and user-friendly or are these just a gimmick.
Prone to creases
The gorilla glass used in conventional smartphones is a lot more durable. Although, it cannot flex as much as flexible OLEDs and AMOLEDs being used in foldable smartphones. However, it is to be seen if these foldable screens are prone to creases or not. Striations on the display screen can be made evident especially at the hinge. Multiple folding and unfolding might even lead to dead pixels in the screen. All of this needs to be tested after daily use.
Unoptimized software
New designs and form factors are bound to face a few problems. Although the software is built to elegantly transition app activity from one screen to another, its functionality seems questionable. It still cannot be ascertained if the device can be used smoothly or not.
Exorbitant prices
These smartphones come at a morbid cost of $2000-$2500 and hence are not economically viable for regular users.
Samsung Galaxy Fold
It was back in 2014 when Samsung first came up with the prospect of a foldable phone. But it was Royole's FlexPai which bagged the title of the World's First Foldable Phone when it launched last November. To the dismay of tech-enthusiasts, the handheld turned out to be more of a gimmick.
Samsung's Galaxy Fold made a stunning debut in the foldable smartphone space in February and will hit the stores in April 2019. Unlike the first draft of foldables, Galaxy Fold offers a perfect combo of design and functionality with a great prospect.
Unique Features
It offers a 7.3-inch Infinity Flex Display with vivid AMOLED panel which can be seamlessly folded into a compact device with a 4.6-inch display at the front. It gives the unprecedented advantage of three-app multitasking with split-screen and is equipped with a special feature of app continuity which facilitates smooth conversion from smaller display to larger and vice versa.
Galaxy Fold is the first smartphone ever to have a UFS 3.0 flash storage. It has an impressive hinge system which gives it a sleek appearance.
Specifications
Its hardware specifications include 12GB RAM, 512GB storage. It also includes a Qualcomm Snapdragon 855 processor, dual batteries with 4,380mAh capacity, fingerprint scanner, speakers with sound by AKG and compatibility with both 4G and 5G networks.
The Galaxy Fold contains six cameras. A 10MP front camera on the cover display and a dual front camera on the main display (10MP + 8MP). A triple camera set up on the rear (12MP + 12MP telephoto + 16MP) with an ultra-wide angle with dual pixel autofocus, dual Optical image stabilization, and dual aperture.
The phone comes in four colors with the option of personalized color on the hinge.
Huawei Mate X
Another big debutante and a major contender in the foldable smartphone market is the Huawei Mate X. Launched shortly after Galaxy Fold, Mate X provides a 6.60-inch primary display (and 6.30 back display) which expands into an 8.00inch OLED display. Unlike Galaxy Fold, it folds outward and has a dual-screen display.
Specifications
Huawei Mate X has a 1.8GHz octa-core Silicon Kirin 980 processor. In the camera department, there are three high-quality cameras (40-megapixel + 16-megapixel + 8-megapixel). It comes with 8GB RAM and 512 GB storage. It is only compatible with 5G networks. It comes packed with two battery that jointly offers 4,500mAh of capacity. Its SuperCharge technology delivers 85 percent of power in 30 minutes of charge.
Although both the models don't differ significantly, there are a few notable distinctions:
Folding Mechanism
The most prominent difference between the two is their folding mechanism. Galaxy Fold folds on the inside like a notebook protecting the screen whenever it is closed whereas the Mate X folds on the outside, thereby keeping the screen always exposed. Also, the latter offers a slightly larger and thinner screen with no camera cutouts and notches.
Software
Both phones come with Android 9 Pie, with the Galaxy Fold running Samsung's One UI while the Mate X running the Huawei EMUI interface. In this regards, Galaxy fold is better since EMUI has been quite quirky with androids.
Hardware specifications
Mate X offers 8 GB RAM while Galaxy Fold offers 12 GB of RAM. The former is a 5G device while the latter comes with both 4G and 5G variants. You get to have wireless charging in Samsung whereas you get the benefit of fast charging in Huawei. In terms of speed and optimization, Galaxy fold is at an advantageous position with its UFS 3.0 flash storage.
Camera
Galaxy fold has six cameras while Mate X boasts of three but since its cameras are located on the sidebar it has got no camera notches like the Galaxy fold. What's interesting about Mate X is you can use the rear-facing camera as the front-facing camera.
Price
Galaxy Fold will be starting at $1980 whereas, its rival, Mate X will be launched for $2300.
Both these phones offer a great cinematic display with a great implementation of technology and numerous benefits and exciting new features. These splendid foldables are just around the corner, waiting to hit the store shelves.
With the advent of flexible screens, many eminent brands have given a thought to venture into this new market. Soon foldable phones might even replace tablets.
Everyone is eager to have an in-hand experience of this new technology and it will be interesting to see how the customers will respond to this exciting, yet costly, paradigm shift.